Trinity's And The Story Unfolds PCD, BN, RE, OA, NAJ, NF, AD, ASA, TKN, CGCA
Dog Information:
Height: 19" 
Weight: 35 lbs 
DOB: August, 24th 2016
Color: Blue (Dilute)
AKC#: DN48093303
Lyric is my pick from my Dare x Aurora litter in August 2016. She is a thoughtful dog with lots of heart and an extremely biddable temperament. She loves agility and always seems to smile as she's running. She has been training in Obedience, Rally, Agility, and Herding. She has qualified for the Excellent division at the 2019 AKC Rally National Championship and will be competing there.
Health Clearances:
Hips: OFA Good
Elbows: OFA Normal
Shoulders: OFA Normal
CEA: Carrier
CL: Normal By Parentage
TNS: Normal By Parentage
MDR1: Normal By Parentage
ICM: Normal By Parentage
DM: Normal By Parentage
BCG: Normal By Parentage
CERF: Normal
BAER: Normal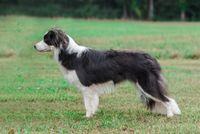 Wildblue Where There's Thunder

AKC CH Wildblue Echoes of Thunder

Aus Ch Rhonabwy Secret Whispers

AKC Ch Wildblue Diamond In The Ruff

AKC Ch Borderwind Kentucky Gold

AKC Ch Glentress Spell Bound

Aus Grand Ch Maghera Star Collector

AKC Ch Shoreland's Kenetic Rip Tide

AKC Ch Tapfers Bluebird On My Shoulder

Locheil The Future's Bright At Bryning

Locheil Victoria's Secret

Sh Ch Pikkupaimenen Great Pretender At Locheil